Oi,is anyone getting the 3ds just for the game?It seems worth it

Why it's worth buying:
1)The world is bigger,there's even a city with a mall in it :3
2)New characters ;D
3)You can wear pants,skirts,dresses and shoes now (FINALLY!)
4)You get to be mayor(I don't get why you start out in a TENT though:/)
5)You can swim and even dive(and collect rare seashells and fish)the animals swim too
Eh,that's all I know..

This is the actual map from the game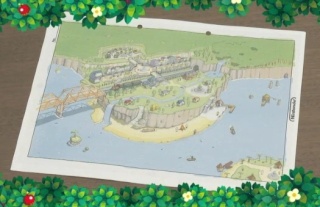 Hope they don't screw it up with limits like in ACCF






Number of posts

: 17


Age

: 29


Bells :

134708


Registration date :

2012-02-04

Character Profile
Species: Cat
Gender: Female


There needs to be a ton of new content to warrant buying a 3DS just for this game. Animal Crossing: City Folk was such a disappointment because there wasn't much difference between it and it's predecessor on the DS. Despite a few gimmicks, it was mostly just Animal Crossing: Wild World without the portability. If I were you I would wait and see if this one is really exceptional before buying the 3DS. My brother recently bought a 3DS and while the Ocarina of Time remake is pretty good, the fighting games he got for it are kind of lackluster. I'm not sure what other games the system has in it's lineup that could be any good besides of course the newest Mario Kart.






Number of posts

: 54


Age

: 26


Bells :

200984


Registration date :

2008-06-18

Character Profile
Species: Wolf
Gender: Male


I'm satisfied with my iPhone. xD I'll wait until there is an official AC app.






Number of posts

: 50


Age

: 21


Bells :

134275


Registration date :

2012-02-19

Character Profile
Species: Squirrel
Gender: Female


I have a 3DS (bought it when it came out). Can't wait for Animal Crossing. I just hope they KEEP THE GOOD HOLIDAYS. D:
I hated how there was no Halloween in the DS one.

Admin







Number of posts

: 66


Age

: 28


Bells :

201136


Registration date :

2008-06-15

Character Profile
Species: Axolotl
Gender: Male


Well, now it's got an official release date and everything.
June 9th. There's more info about the game's features and it sounds GREAT. No, wait, more like AWESOME. CX Hah, an AC app? I wish. D;






Number of posts

: 17


Age

: 29


Bells :

134708


Registration date :

2012-02-04

Character Profile
Species: Cat
Gender: Female




Similar topics
---
Permissions in this forum:
You
cannot
reply to topics in this forum